This shop has been compensated by Collective Bias, Inc. and its advertiser. All opinions are mine alone. #FortunaForAll #cbias #CollectiveBias
With Earth Day this past weekend I've been thinking a lot about giving old things new life. I had a massive pile of old blankets and towels to donate and our local animal shelter just seemed like the best place to donate them (because let's be honest here- nobody wants to buy your old towels and you feel guilty just tossing them, right?) This got me thinking about other things animal shelters may need so I wanted to create a list of things you can donate to an animal shelter, from things you might have around your home to pet supplies you can get at PetSmart (the one-stop shop for all your pet's needs!) to the thing that nobody has enough of- time.
I recommend calling your local shelter to see what items they need before you donate, but here are the top 5 things I'd suggest donating:
Blankets & Towels
If your family is anything like mine you probably have amassed a large number of towels, blankets, and other linens that you aren't using. We have a whole laundry basket full of King size bed linens that don't fit our new Queen-sized bed! Instead of storing these things you may need "some day", consider giving them to your local animal shelter where they will actually use them now. The towels will help dry freshly bathed cats and dogs and the blankets will provide soft bedding for them. (Just look at how comfy my two look, in the photo above, all curled up on Jacob's blanket!)
Grooming Supplies
Pet shampoo, fur brushes, nail clippers and other grooming supplies help shelters make animals look more presentable, and therefore, more adoptable. Every shelter's goal is to find good homes for their animals so this is really important! Grooming tools are very useful and things that I don't think are donated very often.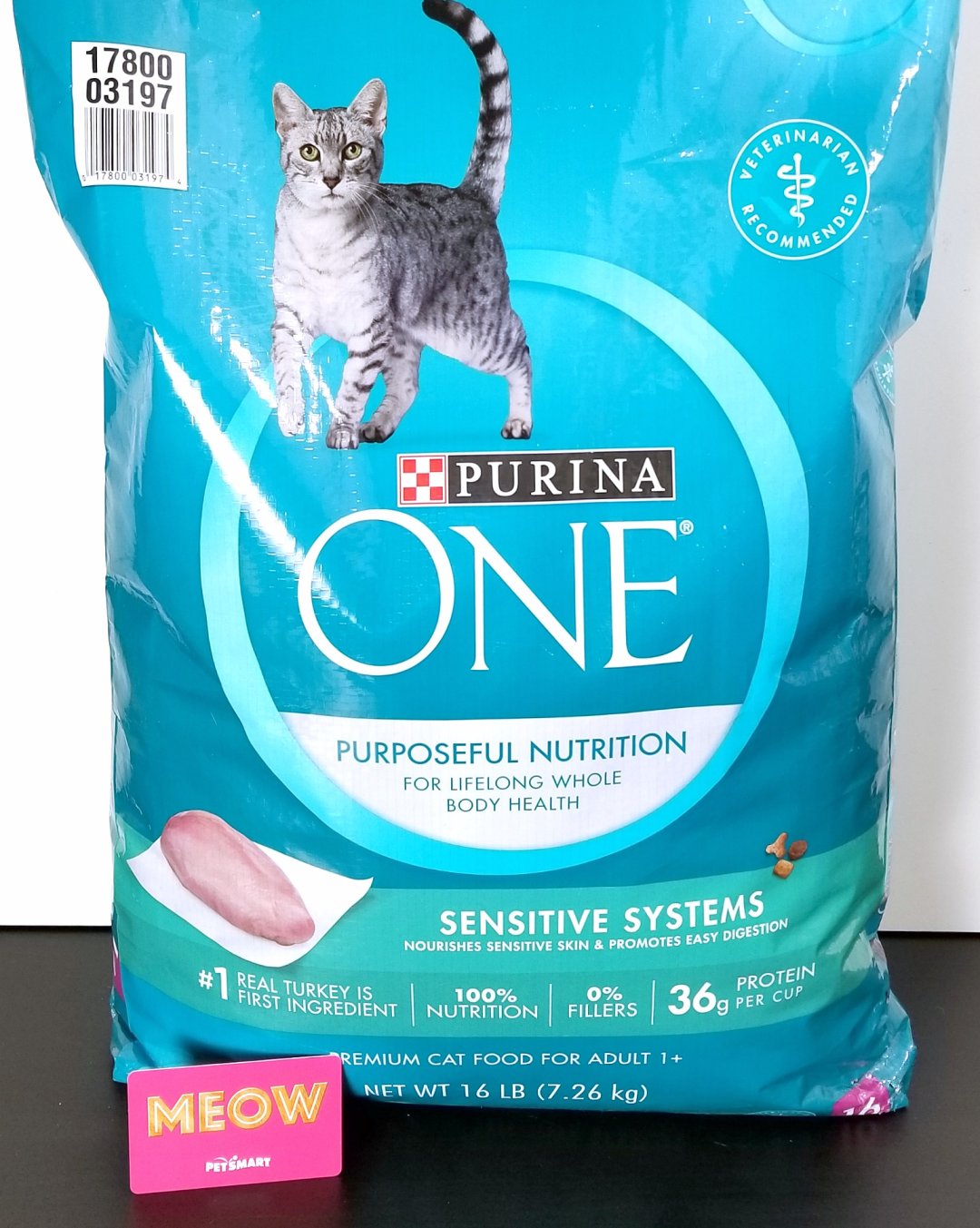 Hover over the image above to shop this product at PetSmart!
Pet Food
Probably the one thing animal shelters run out of the quickest is the one thing that is a necessity for all- food. Next time you are at the store getting food for your pet, consider grabbing an extra bag or two for your local animal shelter. I found a great selection of Purina products at PetSmart so when I got a bag for my cats, Peaches and Boomer, I also got an extra bag for the shelter. Some of the pets in the shelter may have been taken from the streets or might not come from the best homes so quality food is so important for their health. For cats, I think the Purina® ONE Smartblend Sensitive dry cat food is a good choice for the shelters because it's Veterinarian recommended formula is made with no fillers―only ingredients that have purpose―like essential vitamins, minerals and taurine for immune system health and omega-6 fatty acids which helps prevent skin irritations and supports their immune and digestive systems. Another dry cat food that provides outstanding nutrition is the Purina® Pro Plan Savor Shredded Blend that is a mix of crunchy kibble and tender meaty pieces that provide cats with plenty of protein and live probiotics to support digestive health.
Gift Cards
Gift cards are perfect to donate because the animal shelter can purchase whatever they need with them when it's needed. Purina and PetSmart are making it easy to give gift cards because, now through 5/18/18, if you spend $20 on Purina products you get a $5 PetSmart gift card! So why not buy food for your pets and then donate the gift card you are sent? To get the rebate: 1) Shop for participating products to reach a cart total of $20 or more. 2) Upload your receipt on PurinaFortunes.com (before 5/31/18) to get a $5 PetSmart gift card which will be mailed to you in 8-10 weeks. 3) Repeat steps 1-2 as often as you'd like (subsequent receipts can be of any value and when $20 in Purina products have been accumulated, you will receive another gift card. Also, this is considered "gift with purchase," so users don't redeem for their gift cards).
Your Time
Many shelters count on volunteers to run. Donating your time, even if it's just an hour or two a month, is so appreciated. Volunteers are needed to cuddle with animals, take dogs for walks, clean, foster pets, take photos of adoptable animals, play with cats, and more. Contact your local shelter to see what the greatest needs are and how you can help!
Other items you can donate include: cat litter, toys, cat carriers, cleaning supplies, old newspapers, leashes, pet beds, water/food bowls, and treats. I hope this list has given you ideas of things that your local animal shelter would really appreciate!
Don't forget about the Purina gift card rebate! Find all your pet necessities at PetSmart (including Purina cat and dog food) and, while you are uploading your receipt, play the Paws of Fate game! Register with your contact information so you can receive an entry into the Grand Prize Sweepstakes to win a custom cat or dog bed. (Just a heads up- sharing the promotion via Twitter will also earn you an additional entry into the grand prize sweepstakes.) Also, play the instant win game (no purchase necessary to win) at PurinaFortunes.com to instantly win prizes such as PetSmart gift cards, as well as Save a Fortune tarot cards (Purina sent me a pack and they are pretty amusing!)
2 GRAND PRIZES:
-1 Dreams of Fortune Cat Bed (ARV: $2,145)
-1 Dreams of Fortune Dog Bed (ARV: $2,145)
INSTANT WIN GAME PRIZES:
-Purina Branded Tarot Cards (50 total) – ARV: $25/ea
-$50 PetSmart Gift Card (15 total) – ARV: $50.00/ea
-$25 PetSmart Gift Card (15 total) – ARV: $25.00/ea
-$10 PetSmart Gift Card (25 total) – ARV: $10.00/ea
 How will you help your local animal shelter? Get more pet-friendly ideas here.