If you are looking for gift ideas you are in the right place! I have dozens of ideas and there is something here for everyone on your Christmas shopping list. There are also some awesome GIVEAWAYS which you can enter at the bottom of this gift guide. More gift ideas and giveaways will be added in the coming month so keep checking back and stay tuned to the Making Time For Mommy social media channels for updates and gift ideas as well! This post contains some affiliate links to make shopping easier.
Pictures on Gold Locket (GIVEAWAY)
I love the lockets from Pictures on Gold! I have gifted one to my mom and made one for myself and this year I'm giving one to my daughter. I'm also giving one of you the chance to win a locket you design yourself so when you are done going through this list of amazing gifts make sure to scroll all the way down to the bottom to enter to win!
Pictures on Gold offers a variety of personalized jewelry that can be created online (via mobile or desktop). They make it simple to create custom jewelry pieces and to design your own locket with their step-by-step instructions that guide you through the process. Pictures on Gold has images put into the lockets with a laser, making the images 100% waterproof and scratch-proof. They offer a lifetime guarantee on their laser engraving and the quick shipping turnaround time makes it the perfect last-minute gift.
Create your own locket here and use the code 'FESTIVE10' to save 10% off.
Ballpark Blueprints (GIVEAWAY)
Ballpark Blueprints is the site to check out if you have a sports fan on your Christmas list! This company makes original handcrafted architectural art of more than 140 iconic stadiums, arenas and ballparks across the country. Favorite venues from baseball, football (pro and college), basketball, hockey, golf, and more are all part of its extensive collection. Your loved one might be missing out on in-person sports this year but Ballpark Blueprints offer a sophisticated and classic way for sports fans to reminisce and display their love of the game with a variety of gift ideas at every price point: from high-end framed, canvas, and metal art, museum-quality unframed art prints, and wall murals, to golf headcovers, fleece stadium blankets, t-shirts and hoodies, ceramic mugs and metal travel mugs, among others. I received a cozy fleece blanket with my favorite stadium- Soldier Field where the Chicago Bears play- on it and I absolutely love it!
Enter the giveaway at the bottom of this gift guide for your chance to win an unframed print of your choosing. You can also use the code MOMMY20 for 10% off all orders at ballparkblueprints.com.
LEGO Trolls World Tour Pop Village Celebration Set
If you have a child who loves building with LEGO bricks and is a fan of Trolls, this Pop Village Celebration Set would make an awesome gift idea! With amazing detail, this building set opens a world of imaginative play for young Trolls fans. From the branches of this super-cool tree hang two pods: one for the glitter-tastic exclusive LEGO Trolls characters Guy Diamond and Tiny Diamond, plus another for Cooper. There's even space to add an optional third pod – Poppy's Pod. There's so much for kids to discover in this Trolls playhouse. With lots of interactive features and accessories, they'll love creating their own stories. They can even take the fun with them since the Trolls' pods close and are portable! Each set includes printed instructions and comes with Instructions PLUS to help youngsters build.
Buy it on Amazon here.
TENZI Dice Party Game Bundle
A friend recently told me that TENZI was one of her family's favorite games so I knew that I had to add it to our collection for our family game nights. TENZI is a fun, fast dice game for ages 7 and up. To play TENZI you must roll your 10 dice as fast as you can which makes the game instantly competitive and fun for the whole family. In addition to the original TENZI dice game instructions that give you 9 different ways to play, the game bundle includes an add-on card set that provides 77 different ways to play TENZI. This set is small so it's perfect to take with on family trips or to sleepovers and there are so many ways to play it'll provide hours of fun.
Buy it on Amazon here.
Totally 90s Coloring Book
This is the perfect gift for 80s babies! They will relive their youth with this coloring book that's chock-full of the best the 1990s brought us! Flipping through this coloring book I was reminded of all the things I just had to have during that decade- from scrunchies to fanny packs to outdated tech like walkmans and see-through landline phones. 2020 has given us plenty of time at home so this coloring book is perfect for adults looking to do something other than binge-watch tv and it will serve as a great escape back to better times.
Buy it on Amazon here.
Love Board Book
This baby board book by Casey Rislov is inspired by 1 Corinthians 13:4-8 and celebrates the power of love. This board book wraps little ones up in the embrace of gentle words and sweet illustrations while reminding us that–during hard times and loss– with love, anything is possible. The messages of Love rings true now more than ever as our world faces division, turmoil, and chaos from the COVID-19 pandemic — and teaches children compassion and kindness at a young age.
Buy it on Amazon here.
When I think of skateboarding, Tony Hawk comes to mind because he was the best skateboarder out there in the 1990s. I used to love watching him do all his tricks as I dreamed about being a "skater girl" and going to watch him at the X Games. For all the gamers in your life who also enjoy skateboarding, Tony Hawk's Pro Skater 1+2 would make a great gift. The quintessential series that brought skateboarding to the mainstream is back and this ground-up remaster breathes new life into the classic franchise that I have loved since the late 90s.
Buy it on Amazon here.
Back the the Roots Growing Kits
Back to the Roots, an organic gardening company, has two amazing new products for kids just in time for the holiday season:  the Terrarium Kids Grow Kit and the Self-Watering Grow Kit. Kids will be excited to get their hands dirty and get their creativity flowing off-screen! Easy and fun, they will love growing different plants, that they can decorate and make their own.
The Terrarium Kit comes to life with the magic of organic microgreens in just 7 days! Kids can ave fun building and decorating their own edible terrarium, and follow along in the included Discovery Booklet to learn about the magic of nature's ecosystems. Everything is included – just add water and watch it grow! The Self-Watering Grow Kit is a mini hydroponic system that works with all popular cacti and succulents and takes the worry out of watering! It comes with everything you need – just drop in your favorite plant ($5 rebate included!) and add water to the jar. The reliable wicking system brings water up to your succulent or cactus only as needed — so you can keep calm, and grow on!
Light up your kid's holiday season with magic, with a gift they will watch grow to life. Back to the Roots also has a number of gift ideas for all the adults on your list, too! And it's okay if they don't have a green thumb because Back to the Roots offers zero-risk gardening! They'll send you as many seeds as you need to get growing or they'll give you your money back. Sounds perfect for people like me who can't keep plants alive :)
See all their growing kits here.
Boppy Newborn Lounger
If you have a new mom or infant to shop for, the Boppy Lounger is hands down my favorite gift for them. The lounger was the most used baby item in my home during the first months after my third child was born. The Boppy Newborn Lounger is the perfect place for baby to hang out during awake time when you need a hands-free moment. I used it often while trying to get some work done or to put Emma in while my older two fed her a bottle. The uniquely recessed design gently cradles baby during supervised awake time. It is lightweight with a simple carrying handle making the Newborn Lounger easy to move from room to room. You can watch baby and get things done while satisfying baby's curiosity by providing different views and environments.
Buy it on Amazon here.
MasterChef Electric Tortilla and Flatbread Maker
Those who enjoy cooking seem to always love checking out the newest kitcen gadgets and appliances so gifting the MasterChef Electric Tortilla and Flatbread Maker is just a no-brainer! My husband was really excited to receive one. It makes homemade, 10-inch flatbread, pitas, tortillas and more in just minutes. This appliance is heavy duty, has a non-stick coating for easy cleanup and its plates are designed to distribute heat evenly for uniform baking. It includes a ready light to indicate optimal baking temperature and a cord wrap for convenient storage. Best of all, it's easy to clean! Give the gift of kitchen creativity when you leave one of these under the Christmas tree!
Buy it on Amazon here.
HamiltonBuhl Animation Studio Kit
If your child loves to create stop-motion videos this animation kit will help them do so. The simple and easy to use Animate It! software has an intuitive interface with stunningly powerful features. The Animation Studio Kit includes a 5MP, 30FPS, gooseneck webcam with a non-slip base and Animate It! stop motion animation software, developed by the award-winning makers of "Wallace & Gromit." Almost any topic can be made more interesting using stop motion animation, and students will learn from this exciting teaching technique. Simply plug in the included USB webcam, grab an item – a toy, a fruit, a book, anything at hand – and get animating! This fun product teaches kids multimedia skills, which help develop essential skills like critical thinking, problem-solving, communication, and collaboration capabilities. It also demystifies media and IT technologies and might just introduce kids to a new career!
Buy it on Amazon here.
GingerSnap Wishes Clothing
Looking to support a small business this holiday season? I love GingerSnap Wishes and their line of inclusive clothing. Their mission is to create clothing that makes children feel happy, confident, and empowered so they can be comfortable in their own skin and be their true selves. Love it! If you have a girl who likes construction vehicles, dinosaurs, or other sterotypical "boys" themes you will find the perfect gift in this shop. My favorite outfit is the "Sundays are for football" outfit that Emma received (anyone who knows me could have told you I'd pick the football outfit lol!) but I also really like their newest "Children of the Revolution" skirt.
Use code 'MAKINGTIMEFORMOMMY' for 10% off when you shop her site- https://gingersnapwishes.com/?ref=8z-ptewtsujk
Laser Battle Hunters
I have a cool toy your kids are going to love! Laser Battle Hunters Remote Control Laser Tag Vehicles perfectly combine old school car play with the fun of laser tag! They are great for siblings or small groups to play (get additional cars to compete against up to seven opponents) but they also allow a child to play safe and solo with an autonomous single player mode against the computer using both vehicles which is great for social distancing. Laser Battle Hunters give kids an amazing laser tag battling experience. Choose Shadow or Reaper then Game On! Ready, aim and fire…attack or be attacked. Three hits and you win. The vehicles have hi-tech Omniwheels for side-to-side driving in tight spaces, wide open racing, or tough terrain and laser-like lights and sounds. Sneak attack or come in blasting with blazing wide turns and epic drifting. The two-pack Laser Battle Hunter with infrared cannons comes with 2 controllers and are great for kids ages 5 and older to be played indoors or outdoors with an operating range of 50 feet.
Get the two-pack of Laser Battle Hunters at Walmart here.
Resident Evil 3
My husband couldn't wait to get his hands on Resident Evil 3! He loved the first two games and this brings back a lot of nostalgia for him since the first game came out when we were teenagers. This latest entry in the 103 million unit selling Resident Evil franchise bookends the Raccoon City saga using Capcom's proprietary RE Engine to deliver vivid high-definition graphics and modernized gameplay mechanics. Resident Evil 3 is presented through the perspective of one of video games' most iconic heroines, Jill Valentine, as she tries to escape Raccoon City in the completely reimagined, action-backed survival hooror game Resident Evil 3. Experience her harrowing escape while being pursued by Nemesis in the panic-stricken hours leading up to and following the events of the acclaimed best-selling Resident Evil 2. Players can also participate in previously untold Umbrella experiments on the outskirts of Raccoon City in the included online asymmetrical multiplayer game Resident Evil Resistance. In this 4 vs. 1 online multiplayer game, four Survivors must work together to escape an insidious experiment and outsmart the twisted Mastermind behind the scenes. Resident Evil 3 is available now on PlayStation 4, Xbox One and PC.
Buy it on Amazon here.
Puffy Blanket
I am always cold so I love a nice warm blanket that I can cuddle under and this one is so soft! The Puffy Blanket is a gift that's perfect for everyone this Christmas with it's luxurious comfort mixed with classic design that will suit any style of bedroom décor or look great draped over their favorite chair. With soft faux fur on one side and velvety soft micro mink on the other, the lightweight Puffy Blanket is ideal for staying cozy during the cold winter months.
Get the Puffy Blanket and save 15% until the end of the year!
Club Eimmie Doll Accessory Monthly Subscription
If you have a little one in your life who loves dolls they would enjoy getting this monthly subscription package in the mail each month. I get it for my daughter's dolls and they have such cute items. Each month your child will get doll clothes, doll accessories and/or doll playsets. The first box came with a cute romper, pajama set, and doll hair brush and last month they had a fun little roller skating set.
Subscribe on Amazon here.
Sok-It
I found the perfect stocking stuffer for the coffee lover in your life: reusable iced and hot coffee sleeves from Sok-It™. JavaSok™ cold sleeves fit most major brands like Dunkin®, Starbucks®, McCafé® Cups and many other similar sized cups, and not only retain ice so your beverage stays cold longer, but leaves you happy with dry hands, no mess, puddles or watermarks to worry about and HotSok™ sleeves shield your hands from extreme heat and fit most disposable cup sizes. Made from thick, insulating, 4MM coated neoprene fabric on its inner and outer sides to provide natural barriers to various elements, JavaSok and HotSok are also washable. They come in a lot of fun prints, too, so you can find the perfect one that fits the gift recipient's personality!
See the different prints on Amazon here.
The Chicago Tribune Book of the Chicago Bears
One of my favorite things is football, and more specifically the Chicago Bears. This beautifully put-together Bears book is a must-have for any Chicago Bears fan! In Chicago, the Bears's grip on the city spans generations and cultures, endures disappointments, and impels celebration of triumphs great and small. From the team's humble beginnings to its century-long status as the flagship NFL franchise, the Chicago Tribune has documented every season. The Chicago Tribune Book of the Chicago Bears is an impressive testament to Bears tradition, compiling photography, original box scores, and entertaining essays from Hall of Fame reporters. This expanded second edition includes updated writing from the past five years, and was released to coincide with the 100-year anniversary of the NFL–and the Chicago Bears. The Chicago Tribune Book of the Chicago Bears is a decade-by-decade look at the team, beginning with George Halas moving the team to Chicago in 1921. The Bears soon became known as the Monsters of the Midway, dominating the sport with four NFL titles in the 1940s, seven winning campaigns in the 1950s, and a final title with Halas as coach in 1963. Their 1985 Super Bowl championship transformed the city's passion into a full-blown love affair that continues today. Professional football was practically born in Chicago, nurtured by Halas through the Depression and a world war. The NFL game was made for Chicago, in Chicago, by a Chicagoan. Now the award-winning journalists, photographers, and editors of the Chicago Tribune have produced a comprehensive collector's item that every Bears fan will love.
Buy it on Amazon here.
Imaginext
Out of all the toys I bought my boys, I'd say that their Imaginext sets and figures were the most played with. From preschool through 2nd grade or so, these toys were played with on a daily basis. They have a lot of different characters, from Spongebob to super heroes to Toy Story to Scooby Doo. They are also well made and last through rough play, which my young boys definetely put them all through. There are dozens of sets available at big box stores and on Amazon but my favorite that's in stores right now is the giant DC Super Friends Super Surround Batcave. This thing is huge! (Check out the stock photo of the kids sitting next to it.)
See all the Imaginext sets available on Amazon here.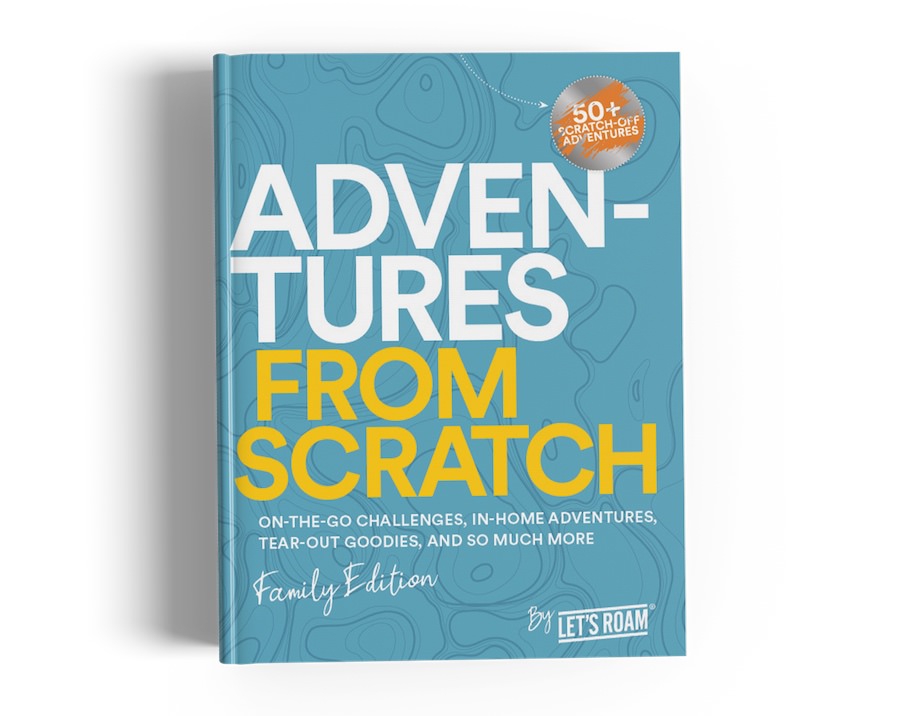 Adventures From Scratch: Family Edition
2020 has been the year of family time. Most of us have stayed close to home and had a lot of time to bond but have done a lot of the "same old thing"- from baking to watching movies to family game night. Adventures From Scratch: Family Edition, an amazing scratch off family adventure book, is here to change that and will definetely help you shake things up in 2021!
This book will spark your family's sense of adventure. Say goodbye to the 'ordinary' and vow to do something different. Use the interactive family book to bond through excitement, to make discoveries, to fuel your imagination, and to venture into uncharted family fun territory. With 50+ hidden challenges, tear-out surprises, and interactive elements, this is the ultimate scratch-off family adventure book. Every challenge is designed to bring your family closer together, doing things you never would have done without this fun-inspiring book. Family adventure categories include: Explore, Create, Learn, Spread Joy, Cook, Move, Get Silly, and more. The adventures can take you to an undiscovered trail, to your kitchen, or to your own backyard.
Commit to an adventurous 2021 and buy the book here.
Watchdogs: Legion
Here's another game on the list for older gamers! My husband was excited to get Watchdogs: Legion to check out. In Watch Dogs: Legion, London is facing its downfall. Amidst the growing unrest of a restless London, an unknown entity named Zero-Day has framed secret underground resistance DedSec for coordinated bombings across London. In the aftermath, criminal opportunists from every corner of London took hold and filled the void left by a defeated government. As a member of DedSec, players will be going up against those criminal opportunists in Watch Dogs: Legion; sadists, mercenaries, cybercriminals, and more; they'll have to be prepared for a variety of situations. Players must recruit members into their DedSec Resistance to take on these criminal opportunists, liberate London and uncover the identity of Zero-Day.
Buy it on Amazon here.
1MORE ColorBuds True Wireless Earbuds
Anyone that loves listening to music would love these new ColorBuds True Wireless Earbuds by 1MORE. These comfortable earbuds are water and sweat resistant and deliver premium sound in a lightweight, portable earbud. They even have an auto play/pause feature so that when the earbuds are removed the built-in infared sensors will automatically pause the music and resume it once you put them back on. They also have four powerful microphones combined with noise cancellation technology that produces crystal-clear voice talk. I love that they have a pocket-sized charging case, too.
Buy them on Amazon here.
All Aboard! Great Lakes Board Book
Living in the Chicago area for most of my life means I'm blessed to have explored the great lakes often and I love traveling to other lakeside towns. Since 2020 has kept us home I haven't been able to take my toddler to see all the sights I'd like to so I was excited to hear about this book that lets toddlers explore the amazing Great Lakes- Superior, Michigan, Huron, Erie, and Ontario and all the interesting places along the way such as Niagra Falls, Mackinac Island (one of my favorites!), Cave Point, and Chicago. The authors engaging writing and delightful illustrations will have little outdoor lovers and baby explorers enthralled with every page, encouraging little ones to always be adventurous!
Buy it on Amazon here.
Trendhim Lealand Green Foldable Duffle Bag
Sometimes men can be so difficult to buy for but Trendhim, an international brand based in Denmark, that sells accessories and other cool stuff for men makes crossing off all the men in your life a snap. I love this army green duffle bag which would make the perfect gift for anyone who loves to explore. This lightweight, water-resistant duffle bag is also ideal for weekend getaways or trips to the gym. It blends functionality with design and the spacious large zipped compartment is great for packing your gear, while the 2 side pockets hold smaller essentials and secure with snaps. It comes packed folded in a small pouch
Find the perfect gift for the fashionable man in your life here.
Blitz Champz
Yes, if you are counting you will know that this is the third football related gift idea on my list…I can't help it! I love football :) I am super excited to share about this gift though because it combines two of my passions: football and education. BLITZ CHAMPZ is a fun and competitive card game, based on the sport of football, that teaches strategy and reinforces math skills. It takes two minutes to learn, can be played by 2-6 people at a time, and is perfect for ages 7 and up. It can be used at school as an educational activity, and at home for fun, family bonding time. It's very portable as well so it's perfect to take camping or to the park.
Buy the game on Amazon here.
Monster Hunter World: Iceborne
Here's another gift idea for the more mature gamers on your Christmas shopping list! The critically-acclaimed Monster Hunter World: Iceborne is the massive expansion that built upon every aspect of Capcom's best-selling title of all time, Monster Hunter: World. The title has continued to receive a bounty of free post-launch content including the addition of new and exciting monsters, seasonal events, new armor, weapons, cosmetic options and more. The title recently launched Title Update 5, which brought two new monsters to the game, including Arch-Tempered Velkhana and the Black Dragon Fatalis, new armor sets, the Fun Fright Fest in-game event, and more. Monster Hunter World: Iceborne is available on PlayStation 4, Xbox One and PC.
Buy it on Amazon here.
Juju Bug & Co. Mother & Daughter TShirt Subscription
I couldn't put together a gift guide and not include my newest favorite- a tshirt subscription for moms and their daughters! My toddler and I wore coordinating shirts yesterday for Thanksgiving that we got from this subscription and I loved being able to fulfill my dream of matching mother/daughter outfits after having two boys.
Sign up for the monthly sets here.
GIVEAWAYS
Shopping for others is fun but winning free things is even more fun :) Enter below to win some amazing prizes thanks to our awesome sponsors! Please note that each prize is a different form so make sure to enter all the giveaways that you are interested in winning! Follow me on social media to be notified when more new gift ideas and giveaways are added to this gift guide!