This shop has been compensated by Collective Bias, Inc. and its advertiser. All opinions are mine alone. #ThinkOutsideTheWipe #CollectiveBias
As a mom of two boys I've accepted that my life is full of messes. From muddy cleats to painted masterpieces to milk dribbles down their chins, it's just became a part of my life. (I often joke that my kids, especially Lucas, can make a mess out of anything.)
If you are a regular reader here you probably already know that I have a type-a personality so it should come as no surprise that messes drive me crazy. With that said, I've really been working to accept that messes come with being a mom and allow my boys to make more messes (which is so much easier for me to do now that they can help clean them up lol). I'll be honest though, it took a long time for me to embrace the messes. I didn't just birth kids and immediately appreciate the messes they brought with.
As much as I typically have avoided messes though, for some reason, when it comes to kid activities I typically tend to pick the messiest crafts and activities I can. (It's probably due to all the years I spent as a preschool teacher!) There's something about messy play that gets kids excited and I just love seeing their faces light up when they realize that the adult in their life is not only going to allow them to make a mess but they are encouraging them to do so. This weekend's activity? Making glow in the dark pumpkins! I had been wanting to do this with my boys since I painted a pretty galaxy pumpkin last fall. While I designed a neat polka dotted pumpkin, my boys couldn't resist squeezing as much paint as possible on to their pumpkins in an effort to make "slime" pumpkins.
It was hard to resist showing them how to gently squeeze the paint tube in order to make a Pinterest perfect pumpkin but I took a deep breath and I let them decorate the pumpkins their way. And they used a LOT of paint. A lot. I'm pretty sure they are going to take days to dry but they had fun creating something with their mom so that is all that matters. Every year, when we pull out these pumpkins in the fall, they will remember that time their mom spent with them and I will remember their giggles as the almost empty paint tube made sounds when they squeezed it. This is what is important. If I had been worried about the mess the whole time I would have completely missed these moments of joy.
Of course I still went into the activity prepared and was ready for the mess since I know my boys. We had bought a large box of Huggies® One and Done® Wipes from Sam's Club and kept them nearby during the whole activity. I like these wipes because they come in smaller soft packs with an  EZ Pull® Dispenser that makes getting wipes out of the package easy, even when I'm trying to do so one handed. The wipes themselves are thick, have a pleasant scent and feature Huggies' Triple Clean Layers that clean up messes without a lot of scrubbing.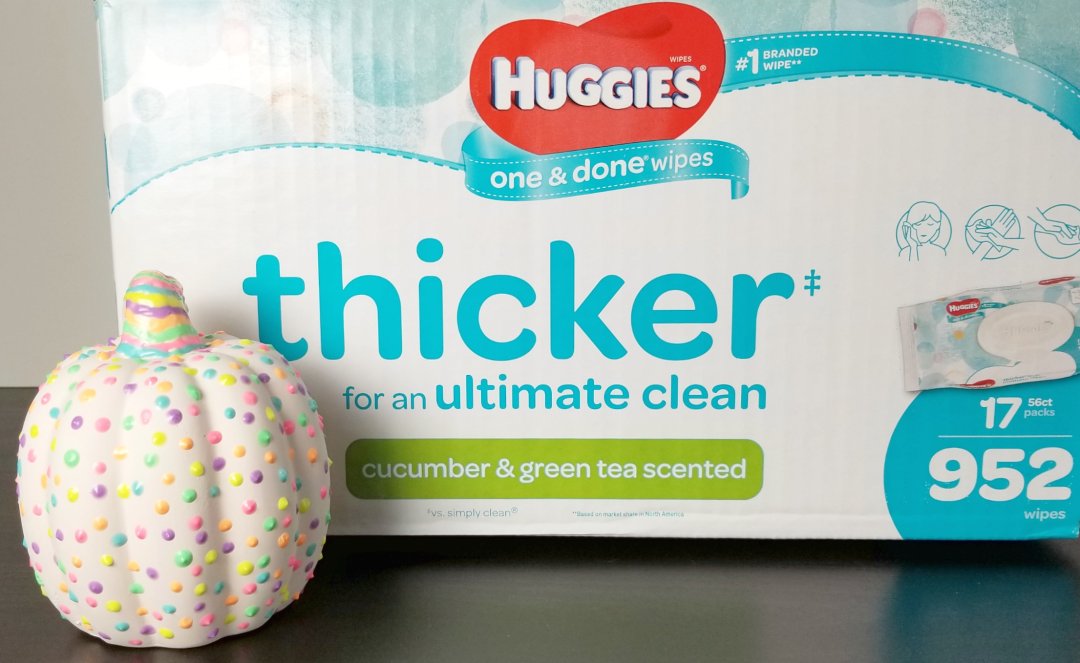 (Hover over the photo above to click through to Samsclub.com where you can buy these wipes to make sure you are prepared for your next messy activity!)
My boys may be 8 and 9 years old but I still find many uses for wipes and always have packs around my home and in my car. Sure enough, they came in handy for this messy activity. From wiping off "mistakes" on my pumpkin to wiping drips off the ground to cleaning messy hands (and legs and wherever else the paint ended up), I was happy we had them (and so was Lucas as you can see below lol).
Anyways, enough talk about the messes…let's get to the fun I promised :) This DIY is so easy and really doesn't require much. You'll need glow in the dark paints (I used fabric paints) and a pumpkin to paint. I chose ceramic pumpkins but you can use fake foam pumpkins or even real pumpkins for this activity.
In addition, you can use paintbrushes to nicely spread the paint on but I discovered my kids just preferred to glob it on the pumpkins. (Slime is the big thing nowadays isn't it?)
How you paint the pumpkin will depend on your design.
Lucas created chunks of colors on his pumpkin while Jacob was (I think) trying to create rings of color around his.
For my polka dot pumpkin, I made dots in one section at a time, making a few dots in one color before switching to another color to make three more dots, and so on before I moved to the next section.
I was going to leave the stem unpainted but decided to paint stripes on it. I just started at the base of the stem and painted around the stem with one color and then added more colors above that, making a rainbow like design.
Once you are happy with your design let it dry and then expose it to sunlight for a few hours so that it will glow! Just a note- if it doesn't glow very brightly it just needs more sunlight. Expose it to direct sunlight for a few more hours.
The boys and I had so much fun painting our pumpkins (and even more fun seeing them glow in a dark room)!
Want to recreate these? Don't forget to head to your local Sam's Club to buy the giant box of Huggies One & Done wipes for the messes that are guaranteed to happen when you combine kids and paint :) (Also, FYI- get $8 off the purchase of any 2 Huggies products, valid 8/23 – 9/17 or while supplies last, at Sam's Club.)
I love shopping at my local club because I can buy in bulk which means less trips to the store. They also have club pickup which means you can shop online and everything is ready for pickup when you arrive. This is an awesome service for busy moms who don't want to wander the aisles with kids in tow.
If you make this Halloween craft I'd love to see your glow in the dark pumpkins so please tag me on Twitter (@aliciamarie112) or share with me on Facebook! Remember- have fun and embrace the mess!