Thanks to Stick 2 Me for sponsoring this post.
The boys start school in a little over a week so today I wanted to share some of my favorite back to school hacks to make life easier.
Label everything
Often time when kids are younger the school tells you to label everything but I think it's just as important to do so as they get older. Last year I was at a school event and happened to look in the lost and found to find four of our jackets that Lucas had left at school. He had worn them on chilly mornings and then either taken them off at recess leaving them on the blacktop or left them sitting in his classroom when he came home for the day. If I had put labels on them they would have found their way back home instead of ending up in the lost and found.
Stick 2 Me creates fun, durable, and waterproof kids identification labels that can be customized with your child's name. They are great for snack containers, clothes, school supplies, sports gear and more. Parents will love that the labels come in multiple convenient sizes and that they are waterproof, washable, and UV resistant so they can go into the dishwasher and the microwave. Kids will love that the labels have fun designs, from beautifully illustrated designs like unicorns and monsters for the younger children to cool graffiti designs for tweens to more neutral designs for teens. Overall there are 24 different collections to choose from (see them all here).
Have a place for school papers that come home
School paperwork can be overwhelming and pile up quickly if not dealt with. From PTA fliers to art projects to field trip forms, I think that I get at least a couple dozen papers a week and even more so during the first weeks of school. Having a place to keep all of the papers together is helpful so this year I'm using a basket for all the papers that come home. When the boys empty their backpacks they can put the papers directly into the basket and then I can go through them when I get a chance. No more papers piling up on my table!
Send extra clothes to school (even if kids are older)
When my children were in preschool, sending extra clothes was a no brainer because they would have the occasional bathroom accident. Last year though I discovered that even grade schoolers could benefit from an extra set of clothes when I found myself running to school midday to drop off pants for my then 8 year old. He had fallen into a mud pit while playing outside at recess and was covered in mud. If he'd had an extra outfit stashed in his locker or backpack he would have been set so lesson learned!
Start the day off on a good note
Mornings can be stressful but they don't have to be! I've found that starting our morning routine earlier than we need to leads to calmer mornings and us getting out the door early every day. Figure out how much time it takes your family to get ready and then add 20 to 30 minutes to that time because you know things are bound to happen- like your child not being able to find their school library book or being ready to walk out the door and discovering that your child still doesn't have their shoes on even though you've asked them to do so at least 10 times. (We've all been there, right??) Having outfits picked out the night before and backpacks ready to go helps make mornings easier as well.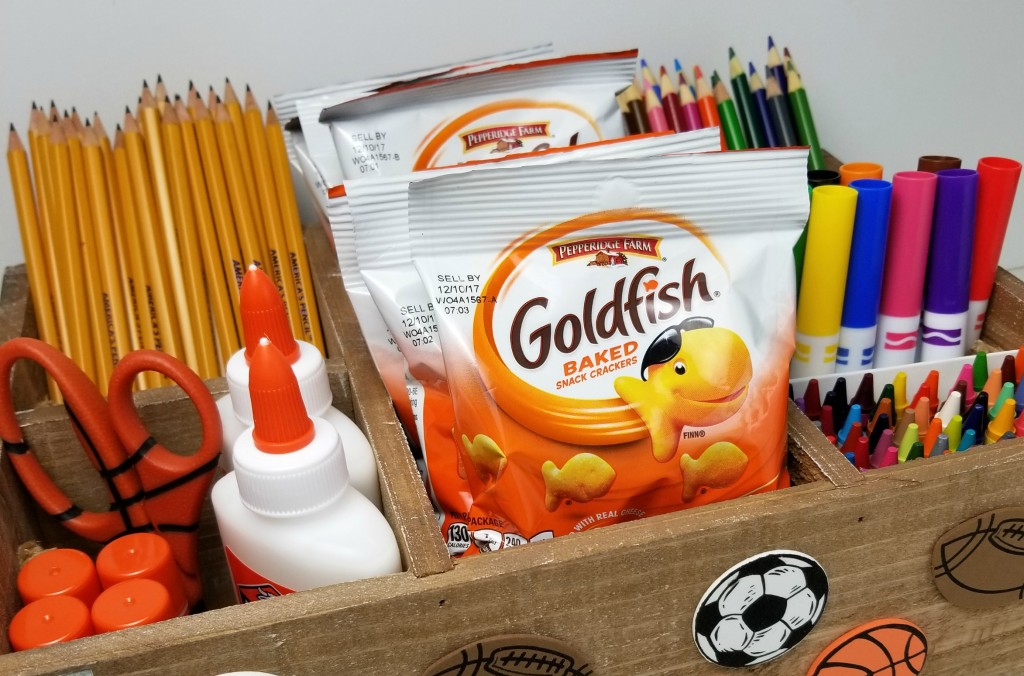 Designate a homework area
It's important that children have a designated area to do homework. You'll want to find a well-lit area with few distractions and stock it with all of the supplies they need to get their schoolwork done. Last year my boys usually did their homework at a small table that didn't make it easy for us to help if they needed it so this year we've moved them to a larger table that we've designated for homework and projects. The table has a homework caddy filled with essential supplies to make homework time easier.
Find 15 more back to school hacks here. Which tip is your favorite?