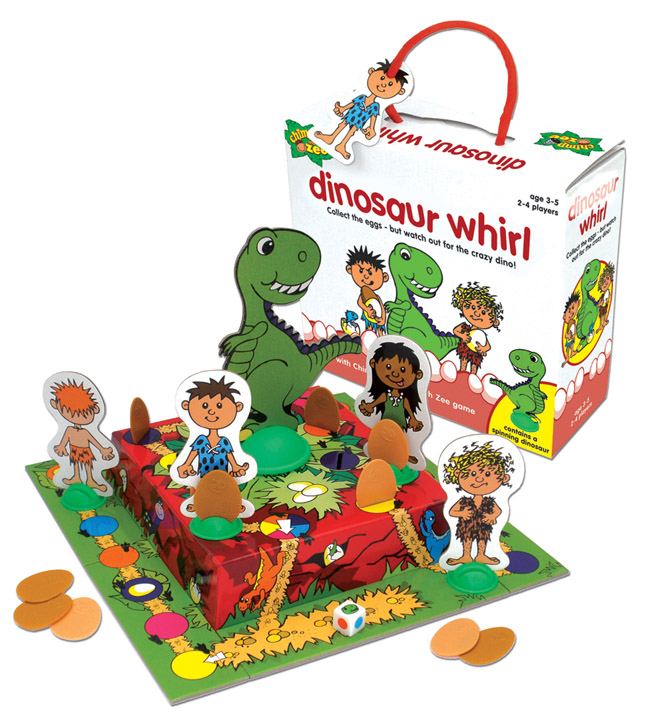 Dinosaur Whirl is a new game from Pressman. The game is for children ages 3 and up in which each player goes on a hunt for dinosaur eggs.
Jacob and I played the game this past week. It was relatively easy to set up except the playing track pieces took me a few minutes to figure out how they went together. The directions for playing the game are simple to follow. The game doesn't take long to play which is perfect for Jacob's short attention span. I was surprised at how quickly he learned how to roll the die and figure out which spot to move his playing piece to.  He liked collecting the eggs and thought it was funny when the dinosaur knocked down the playing pieces with his tail. Overall, we had a great time playing the game together.
GIVEAWAY
One reader will win their own Dinosaur Whirl Game.
HOW TO ENTER
(Do any or all of the following)
1) Like Making Time For Mommy on Facebook
2) Like Pressman Toy on Facebook
3) Follow @aliciamarie112 on Twitter
4) Follow @PressmanToy on Twitter
5) Tweet: "Enter to win a Dinosaur Whirl Game from @PressmanToy and @aliciamarie112 at www.makingtimeformommy.com"
6) Share this giveaway on Facebook
7) Subscribe to my blog via email
8) Enter another one of my giveaways
Giveaway ends August 4, 2011 at 11:59pm Central time.
(Disclosure: I received a copy of the game to review but all opinions are my own.)