This shop has been compensated by Collective Bias, Inc. and its advertiser. All opinions are mine alone. #TeaProudly #CollectiveBias
Mother's Day is coming up and I have the perfect gift for you to give to your mom….time with you! My mom always says she wants time to spend with her daughter and it makes sense. Imagine you spend years with your child relying on you and then all of a sudden they are grown up and out on their own- working, raising kids, and just busy with life in general… you don't see them as much and when you do it's typically with the grandkids in tow. We know grandma loves the littles but she probably really misses spending time with you.
So, in brainstorming some ideas for mother-daughter time, I thought about a creative gift idea that is super simple and will show mom just how TEA-rific you think she is. With the weather getting warmer, and my mom liking iced tea, I created an iced tea gift basket. This thoughtful gift, complete with two cups (one for you and one for mom!), shows her that you want to spend an afternoon on the patio listening to her tell stories while the two of you sip iced tea.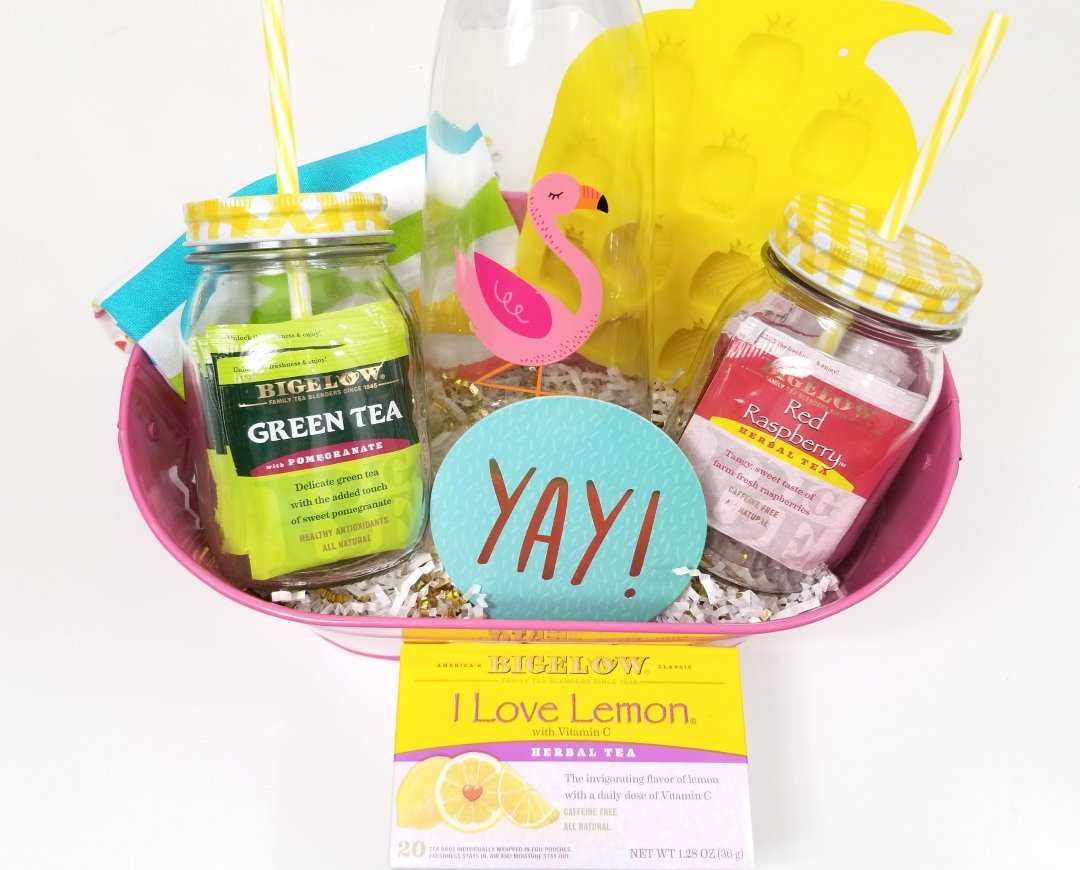 (Hover over the image above to shop for Bigelow Tea at Walmart.com!)
I decided to make the gift basket colorful because iced tea reminds me of summer and I wanted my gift basket to reflect that. I added a handtowel, two tumblers, coasters, a fun-shaped ice cube tray and a cute carafe. I also put Bigelow tea packets inside the tumblers. I chose Bigelow Tea (manufactured right here in the U.S.) because it's my family's favorite brand of tea. Known for their quality ingredients and foil packaging that keeps the tea fresh, it's the perfect addition to a gift basket for mom.
When it came to flavors, I picked out fruity flavors of tea since I thought they would fit in well with the sunny day themed basket. Great choices include: Red Raspberry Herbal Tea, I Love Lemon with Vitamin C Herbal Tea, and Green Tea with Pomegranate.
Along with the gift basket you can also brew some iced tea for mom. I made iced tea using the Red Raspberry Herbal Tea and then put it in a "mom" tumbler before we headed outside to enjoy the sunny day.
Making the iced tea was a lot easier than I realized! Here's the process to make 3 cups of iced tea:
Steep 6 tea bags in 8 ounces of hot water for 10 minutes
Pour concentrate into pitcher
Add 24 ounces of cold water on top of the tea concentrate and stir
Pour into glasses and serve.
So give mom the gift she wants most of all and bond over cups of delicious iced tea. Before you leave make sure to remind her that she's hosting your next mother-daughter get-together and she has all the tools to do so thanks to the sweet gift you gave her!
*****
Find all your favorite Bigelow Tea flavors at your local Walmart!
PIN THIS POST!