This shop has been compensated by Collective Bias, Inc. and its advertiser. All opinions are mine alone. #GoldfishGameTime #CollectiveBias
Spring is around the corner which means warmer days are coming and I can't wait to spend more time outside with my boys. Since springtime also brings rain, I thought it would be fun to share some activities for rainy days, and I particularly wanted to share some activities that will keep kids active and off of electronics when they are stuck inside (but most of these can be done outdoors as well). Most of these activities can be done with items you have around your home already or that can easily be found at Walmart.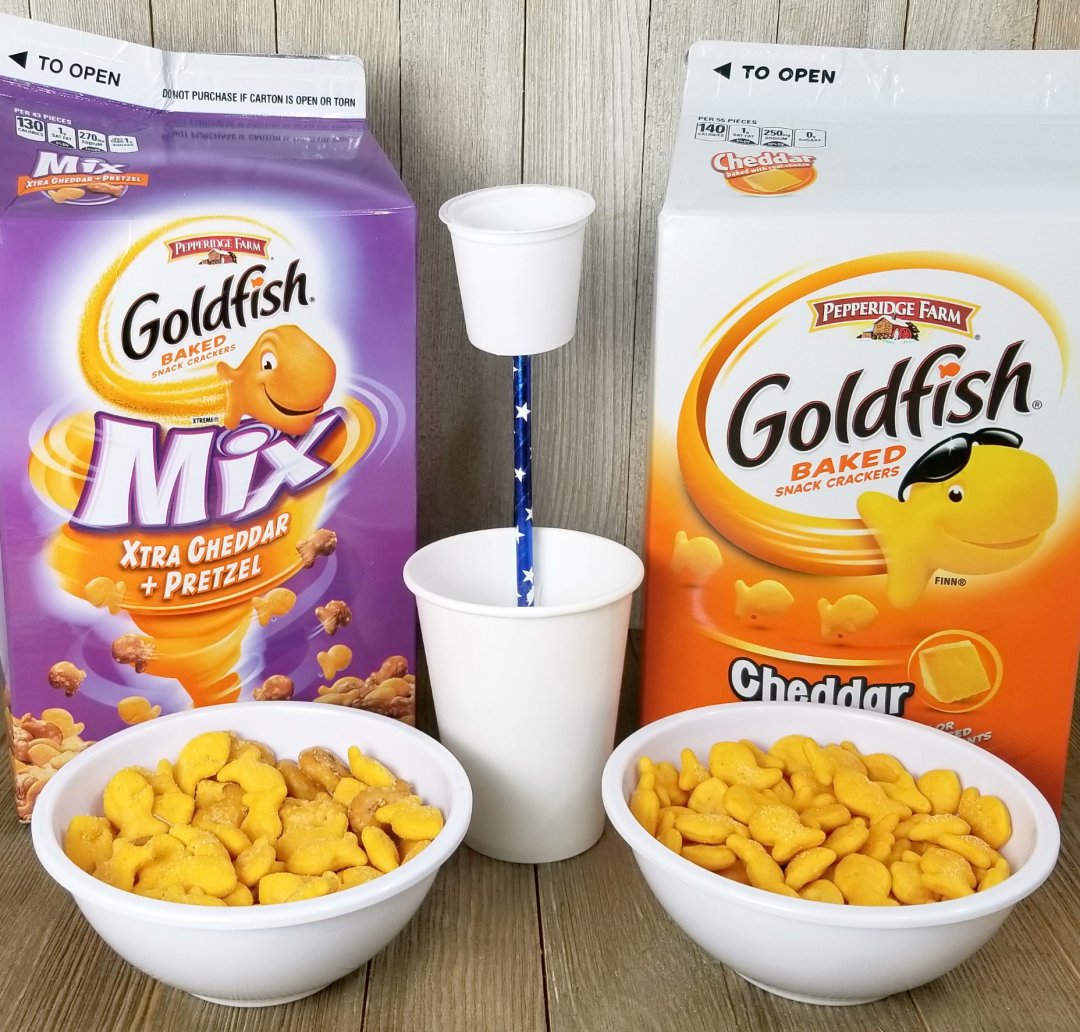 What does your family like to do on rainy days? Click the image above to shop online! 
You'll also want to make sure you have plenty of snacks available because you are probably going to hear "mom, I'm hungry" about a dozen times (and maybe more so if you have growing boys like I do!). We always keep Pepperidge Farm® Goldfish® crackers on hand because everyone in our family enjoys them and they are an easy grab-and-go snack. We also like to utilize them in some of our favorite games like relay races and tabletop basketball.
Here are some fun active rainy day activities that families can do together:
MAKE AND PLAY YOUR OWN TABLETOP BASKETBALL GAME.
Basketball season may be coming to a close soon but tabletop basketball is fun year-round! You can make a little game with just a handful of items: a paper cup, a straw, a coffee pod, scissors, tape, and then grab some Goldfish crackers to use in place of the balls. To make this simple game just cut the bottom and top from a coffee pod, and tape one end of the straw inside the coffee pod and the other end inside the cup (to catch the Goldfish crackers). Let kids take turns throwing the crackers in to the "net" to get a basket. They can see how many they get in to the net without missing or compete to see who can be the first to 20 baskets.
SET UP A RELAY RACE.
Relay races always create some fun competition. This activity's instructions can vary based on how many people are participating but it's easy to set up and modify, based on how many participants there are. For two participants you'll want to put two cups at each end of a hallway, one side's cups will have Goldfish crackers in them and one side will not. Each child will get a spoon with the goal of getting all their crackers into the cup at the other side of the hall before the other person does. If there are four people or more, split into even teams, giving one child on each team a spoon, and have them pick up one cracker at a time, run to the other end to put it in the empty cup, run back and hand the spoon to the next person in line to do the same thing, and repeat -taking turns- until all the crackers are in the other cup.
MAKE A MASKING TAPE BALANCE BEAM.
Put a piece of tape on the floor in an open area and let kids pretend they are walking on a balance beam. They can try walking backwards, jumping over obstacles put down along the path, or (Luke's favorite!) show off their best cartwheels.
PUT ON A PLAY.
Kids can choose to act out something they've seen before or create their own play. Let them write the script, cast characters, make backdrops and props and then act it out either in front of their family or (if the whole family is participating) in front of an audience of stuffed animals.
HAVE A 'PIN'TASTIC TIME BOWLING AT HOME.
Who says you need to head to a bowling alley to knock down some pins?! Make a little bowling set with empty water bottles filled with Goldfish crackers and roll a small ball to try to knock down as many "pins" as you can. For some friendly competition, keep score of how many everyone knocks down on each turn.
PLAY A QUICK 'MINUTE TO WIN IT' GAME.
Give each child a wooden craft stick and a small cup of Goldfish crackers. With one end of the craft stick between their lips, see how many crackers they can stack on top of each other without the crackers falling off. The one who stacks the most crackers on their stick wins!
GO ON A SCAVENGER HUNT.
Make a list of 20-30 random items that can be found somewhere in your home. (Examples include: paper clip, colorful sock, pencil, spatula, etc.) Split up and see who can find all of the items on the list first.
PLAY BALLOON TENNIS.
One of the easiest games in the world could be the simple game of "don't let the balloon touch the ground". Make it even more exciting with "rackets"  you've made out of paper plates with craft stick handles. Let kids take turns hitting the balloon and see how long they can go without letting it touch the ground.
BLOW AWAY THE COMPETITION WITH THIS STRAW RACE GAME.
Using only straws, see who can blow their Goldfish cracker over the finish line first. Or you could make a bullseye target at one side of the table and see who can blow their cracker into the center of the bullseye first.
PLAY RING TOSS.
Cut the middle part out of three paper plates and grab a plastic cup or bottle. Toss the paper rings to see who can get them around the cup or water bottle. To really get the rainy day wiggles out, have each person skip or hop to pick up their rings they've thrown before they pass them on to the next person.
HAVE A DANCE OFF.
Turn on some music and dance! See who can last the longest or who has the best dance moves. Let everyone take turns picking the songs and burn some energy while you work up a sweat dancing.
DESIGN AN OBSTACLE COURSE.
Last Spring I shared how to help kids create an obstacle course oudoors (you can see that post here) and it is an activity that could definitely be recreated indoors with some of the same materials. Hula hoops, cones, tunnels or whatever you have on hand can turn into an obstacle course that will keep kids busy for hours. Join in on the fun and go through their obstacle course to see big smiles at the "finish" line!
Whatever you choose to do on a rainy day, you'll want to make sure that you have snacks on hand. We love Goldfish crackers and always have at least a couple varieties available. On our recent trip to Walmart we bought the Pepperidge Farm® Goldfish® crackers Cheddar 30 oz. Carton and the Pepperidge Farm® Goldfish® crackers Xtra Cheddar 30 oz. Carton. You can find the 30 oz cartons of Goldfish crackers at Walmart stores on rollback for $6.46 in store only. I love being able to save money on our favorite snack! For even more game inspiration, click here!
(PIN IT)