This shop has been compensated by Collective Bias, Inc. and its advertiser. All opinions are mine alone. #MyLiteracyStory #DGMyStoryEntry #CollectiveBias
When I was younger I loved to read. Whether I was in the backseat of our van on a long family road trip, or curled up in bed begging my eyelids to stay open for "just one more chapter", reading was something that I always enjoyed doing. So much so that at one point I even wanted to be an author and write books of my own! (A blog author is close right? I may not see my name on bookshelves everywhere but I still get to share my stories here!)
Anyways, I vowed that I'd help my kids develop a love of reading like I had when I was a kid but, nowadays, kids just don't seem to get lost in books like my generation did. I think that part of this is because there are so many distractions vying for their time, whether it's screens or just busier lives in general. While we can't eliminate all the distractions that are getting in the way of reading time, we can show them how much fun reading can be to encourage them to become life long readers.
Here are some of my favorite ways to make reading fun for kids:
HAVE A SNACK WHILE YOU READ TOGETHER.
I was just talking to a mom yesterday about how our kid's favorite part of their sports team seemed to be the snack at the end of the game and how they both looked forward to that every week. As silly as it sounds, snacks are important to kids- whether it's their game day snack or their after school snack- so reading during snack time can make it more enjoyable (especially for reluctant readers). Our favorite snacks are ones that are easy and mess free- like bowls of colorful Kellogg's® Froot Loops® Cereal.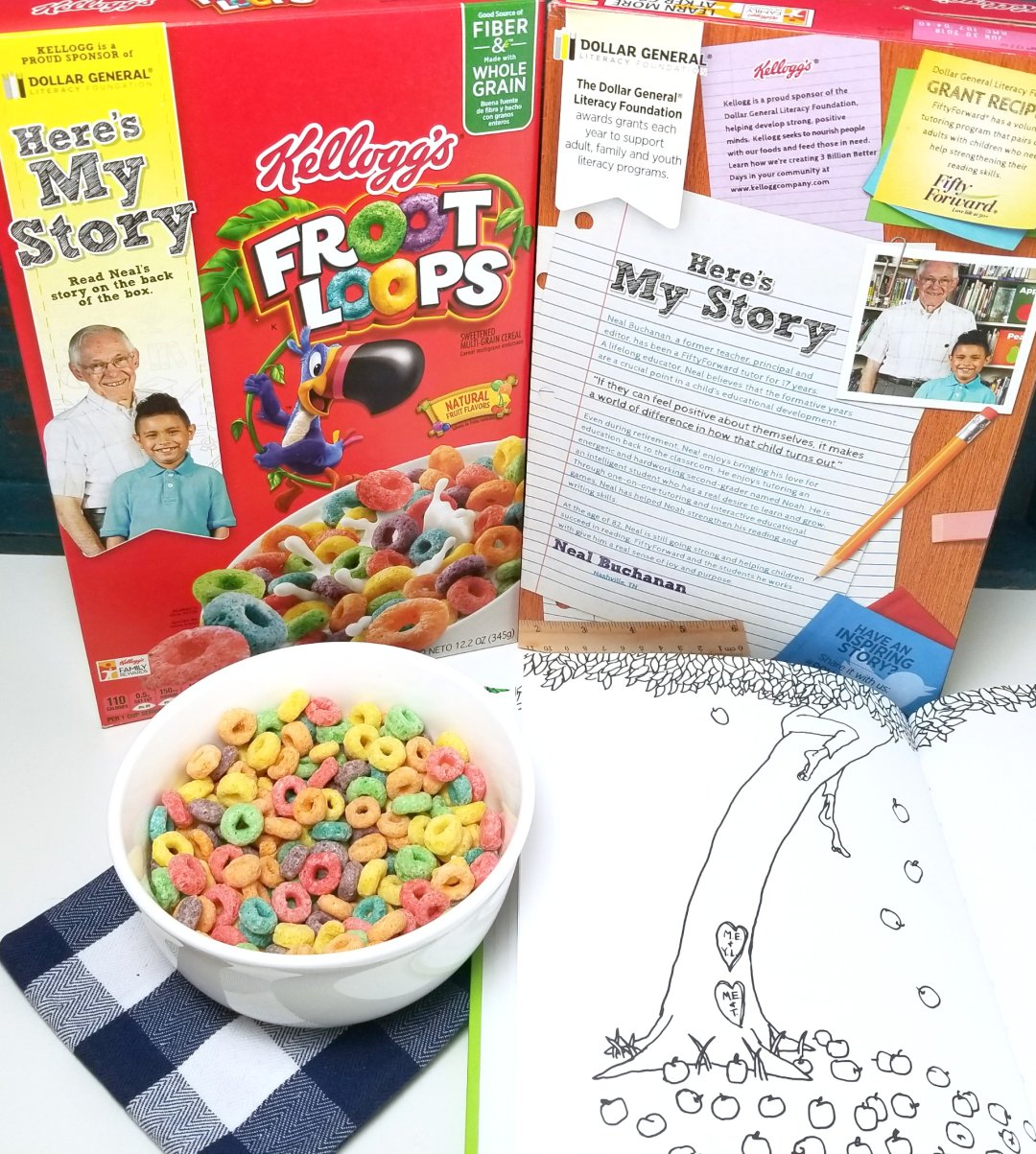 (Hover over the image above to start shopping Kellogg's® line of cereals at Dollar General)
PICK GOOD BOOKS.
This might seem obvious but kids are more likely to want to read if given books they enjoy. There are so many good books out there but here are ten of my favorite picture books:
The Way I Feel by Janan Cain
The Kissing Hand by Audrey Penn
Happy Birthday, Moon by Frank Asch
Love You Forever by Robert Munsch
Cloudy With A Chance Of Meatballs by Judi Barrett
If You Give A Mouse A Cookie by Laura Numeroff
The Very Hungry Caterpillar by Eric Carle
What If The Zebras Lost Their Stripes? by John Reitano
There's An Alligator Under My Bed by Mercer Mayer
Alexander and the Terrible, Horrible, No Good, Very Bad Day by Judith Viorst
Some of these books I enjoyed reading during my childhood and they are still favorites of mine! I also loved Shel Silverstein's books like The Giving Tree and Where The Sidewalk Ends. Books have such a lasting effect on people!
As children get older I think that letting them select the books they read becomes even more important (even if they are choosing to read books about superheroes in underwear or wimpy kids with diaries…. ) I've found that older kids are drawn to series and books with characters that they can relate to.
MAKE READING A GAME.
Lucas spent almost four hours reading and listening to audio books this past Saturday, all thanks to a smartphone app that turns reading into a game. and encourages them to read for badges with honors like "I read two days in a row" and "I read 50 books". While nothing can replace the feel of a paper book, I was impressed that this app made him so excited to read and kept his attention for hours! Another way to turn reading into a game? Follow the likes of your child's favorite YouTube stars and play the popular "try not to laugh challenge". Challenge your kids not to laugh as you read the book out loud in as many silly voices as you can (I know you all can probably do a great impression of Tony the Tiger from those Kellogg's Frosted Flakes® Cereal commercials!)
READ IN NEW PLACES.
Part of the fun of reading is that books transport the reader to new places, whether real or imaginary. Bring that adventure to life by reading together in different places in your home or community. Spend a rainy afternoon reading inside a pillow fort in your living room and enjoy a beautiful fall day outside on a blanket in your backyard or in the shade of a tree at a nearby park. Books don't just have to be read while sitting on a couch!
BRING THE STORY TO LIFE.
When I was a preschool teacher I found that the best way to get my class excited to read was to get them involved in the story. Whether they acted the book out, did a craft that corresponded with the story, or yelled out the repetitive lines in books like Chicka Chicka Boom Boom, they loved participating. Being part of the story is so much more fun than just listening to someone read it. One of my fondest memories of story time was when I had created a giant caterpillar out of posterboard and let the kids take turns "feeding" him pretend play food as I read the story to them.
I hope that I have given you ideas to help make reading fun for your family. I encourage you to spend time reading with your children every day, whether it's a short book in between errands, an afternoon of reading as you are cuddled together on the couch, or a chapter a night before bed. 
Early literacy has been a cause that's been really important to me since my college days as an early childhood education major. From volunteering to read to children in schools, to hosting book fairs to collect book donations, to sharing about the importance of reading here on this blog, I try to do as much as I can to promote literacy. I really love when companies support causes that I'm passionate about so I was so happy to learn that Kellogg's, a brand that makes some of my family's favorite cereals, is promoting literacy as a sponsor of the Dollar General Literacy Foundation. The Dollar General Literacy Foundation is celebrating over 20 years of helping individuals learn to read, prepare for their high school equivalency, or learn English. Since its inception, the Foundation has awarded more than $140 million (WOW!) to nonprofit organizations and schools that have helped more than 9 million individuals advance their literacy and basic education skills.
I encourage you to learn more about this literacy initiative and enter the #DGMyStory Sweepstakes for a chance to win a $50 Dollar General gift card. Entering is easy, just share your own personal literacy story with the hashtag #DGMyStoryEntry by 10/22/17. (Just think about all the cereal you could buy with that $50 to Dollar General! Yum! Just wandering down the cereal aisle you could grab all your family's faves, like Kellogg's Frosted Bite-Size Mini-Wheats® Cereal and Kellogg's® Rice Krispies® Cereal, and you'd be set for easy breakfasts and snacks for months.)
How do you make reading fun for your kids? I'd love to hear your tips in the comments below or join the conversation on social media.