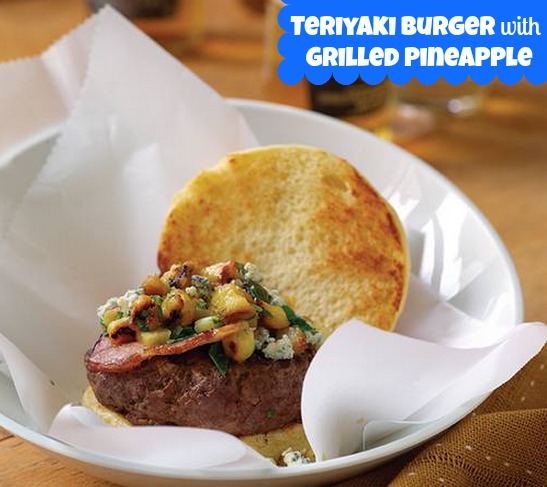 Happy National Cheeseburger Day! This recipe features lean ground sirloin and a distinctive Hawaiian twist with homemade teriyaki sauce with grilled pineapple, scallions, ginger, honey, and sesame oil—a combination that really makes this burger unforgettable.
| | |
| --- | --- |
| Cook Time | 30 min |
| Prep Time | 30 min |
| Yields | 4 serv. |
INGREDIENTS
1 Nonstick cooking spray

1 Peeled and cored pineapple, cut into wedges

4 Scallions

2 cups Baby spinach leaves, finely chopped

1 teaspoon Grated garlic

1 teaspoon Peeled and grated fresh ginger

1 tablespoon Reduced-sodium soy sauce

2 tablespoons Unseasoned rice vinegar

2 teaspoons honey

1/8 teaspoon Sesame oil

1 pound 95% lean ground sirloin

2 ounces Link lean sweet Italian turkey sausage, casings removed

1 teaspoon Granulated onion

1 teaspoon Dried oregano

1 teaspoon Ground cloves

1 tablespoon Allspice

1 teaspoon Red pepper flakes

2 Slices Canadian-style bacon, halved

4 Hawaiian sweet or whole wheat hamburger buns, halved and toasted

2 tablespoons Crumbled blue Cheese
DIRECTIONS
To make the grilled pineapple teriyaki, coat a grill pan with nonstick spray and place over medium-high

Heat or preheat a gas or charcoal grill and get it very hot. Put the pineapple wedges on the hot grill and cook until the fruit is charred on all sides, turning with tongs, about 10 minutes total.

Remove the pineapple from the grill, chop into small pieces, and put into a mixing bowl.

Next, lay the scallions on the hot grill and char on both sides until softened slightly, about 2 minutes. Remove the scallions from the grill, chop, and add to the pineapple. Keep the grill hot; you'll need it to cook the burgers.

To the pineapple mixture, add the spinach, garlic, ginger, soy sauce, vinegar, honey, and sesame oil. Toss well to evenly distribute the ingredients. Set aside to let the flavors meld.

To make the burgers, in a large mixing bowl combine the beef and the turkey sausage. Add the onion powder, oregano, cloves, allspice, and red pepper flakes. Mix gently by hand to combine, being careful not to overwork the meat.

Gently form the meat mixture into four burgers. Spray the grill pan or grill with another coating of nonstick spray. Grill the burgers for 4 minutes per side for medium doneness. The burgers should turn easily without sticking. Remove the burgers to a clean side plate and hold warm.

Arrange the Canadian bacon slices on the grill and cook for 1 minute on each side, until they are scored with grill marks.

To assemble the burgers, lay the hamburger patty on the bottom bun and top with bacon and about . cup of the pineapple teriyaki. Finish with a sprinkle of blue cheese and top with the other half of the bun.
(Recipe and image courtesy of Recipe Rehab.)