(Disclosure: My tailgating party was sponsored by McDonald's, an official sponsor of the NFL.)
I am so happy that football is back! There is little I enjoy more than spending time with family while watching the Bears (and now my oldest son!) play. It's a Fall ritual!
Last weekend both my son and my nephew had football games on Sunday morning so we were getting together with family after their games. Twelve o'clock kickoff times aren't the easiest to get ready for because being gone in the morning, for Church or youth football, means a rush to get some food ready once we get home.
We got to my mom's house right before the Bears kicked off. Instead of cooking, we tried something new last week and picked up McDonald's. This way everyone could get what they wanted and it was as simple as running to McDonald's and picking it up. No cooking involved!
One thing I did add to the list of everyone's food order was a box of cookies. Did you know that McDonald's sold their delicious chocolate chip cookies by the box!? I didn't! I regret only buying one box because, with a group, 2 or 3 boxes (at least!) is a must.
I kept the decorations simple. Just a football tablecloth, a few hanging decorations and a cute centerpiece that held the cookies was all we needed. We had football napkins as well, but no dirty plates or cups to wash. It was a really easy get-together to plan for and both setup and cleanup were easy-peasy.
Since not all of the kids were interested in the football game we made sure to have plenty to keep them busy. Along with playing with some toys upstairs, they played a couple games and spent some time crafting (more on that coming soon!).
They also loved playing with their football figures and Littlest Pet Shop animals that came in their Happy Meals. Overall, it was a great afternoon of football, food and fun.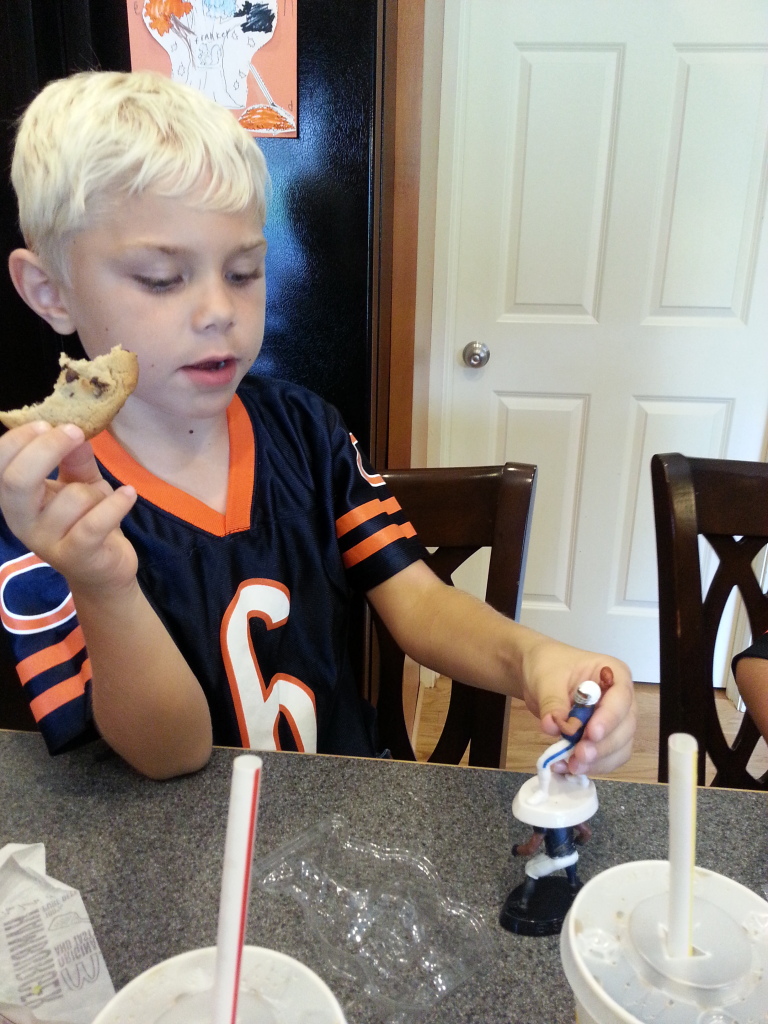 We can't wait for the next Bears game and will definitely be tailgating with McDonald's again!
Want to join in on the fun? Learn about the ways you can earn weekly prizes and enter for a chance to win the ULTIMATE tailgate at mcdtailgate.com.